Artwork
This window allows you to to display artwork covers.
User Interface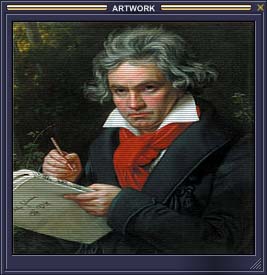 Artwork window content example (Beethoven)
You can open this window when you click on main panel on artwork field (this is visible only in some modes) or you can press ALT+6.
When you start playback, system tries to find image in a file. Currently it is possible only in MP3 (APIC tag) and FLAC (PICTURE tag). If there are more images available, the first one is used and the other are ignored. If there is no image, system tries to find some local files where track is located. Then it tries in few subfolders. If there is no success, no image is loaded and window is blank.
For more information how the search works, see Search for artwork images.
When you edit track (press F4) in Track Information window, image in the window is not display when it is not located directly in the file. The same holds true for system attribute of type artwork.
See also Options :: Custom for Artwork window configuration (you can define darker odd lines to create TV-like effect).
See also Track information
See also Track system attributes

Example where artwork is loaded from external graphic file, it was not embedded in music file. When you open Track Information window, there is no image visible.
Classic version is required to display Artwork window.
Back to contents