Playlist Information
This window allows you to rename playlist and change its color. You can also see the database ID corresponding to the playlist and total number of tracks used in the playlist.
User interface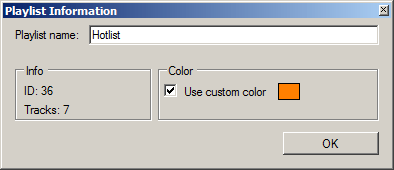 Playlist Information window
You can open this window from Playlists window or from tabs in Music Commander by pressing F4 or using context menu.
Note: playlist color is applied to its specific window.
Note: you can set default color for all playlists in Options :: Default settings.
See also Playlists
See also Options :: Playlists
See also How to create your first playlist
Back to contents