Lyrics Editor
Lyrics editor allows you to edit lyrics and tag lines during playback using current time information.
User interface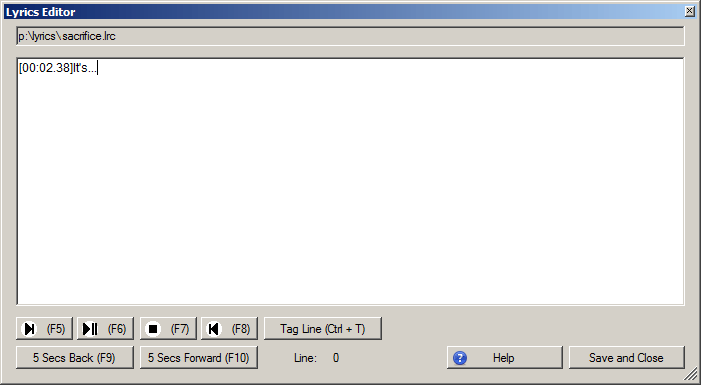 Lyrics editor example
Lyrics editor opens when you press F4 in Lyrics window.
Lyrics path
If you opened existing lyrics file, it will be displayed in the lyrics path. If you created new lyrics file (it did not exist), the file will be created either in lyrics directory (if directory is set and if it exists, see Options :: Lyrics) or in directory where current track is located.
Lyrics contents
You can either copy text files from internet browser or you can type the text yourself. After pressing CTRL + T, time information is added at the beginning of current line.
Control buttons
You can use buttons or keyboard shortcuts to control playback of the song.
Note: bilingual lyrics use 1x "|" separator in each text line. Lyrics are shown automatically in bilingual mode when "|" symbol has exactly one occurence in at least one line.
Note: lyrics file is automatically saved when window is closed.
Technical note: lyrics files are always saved in unicode format (because of possible special characters).
Technical note: if Totalamp detects that it is reading unicode file, it will use it (and it will override ASCII or other settings).
Classic version is required to edit lyrics.
See also Lyrics window
See also Options :: Lyrics
Back to contents