by Michal Farkaš, 2005
Welcome to the ultimate worms-deathmatch experience.
Navigate your worm, beat up your opponents and survive.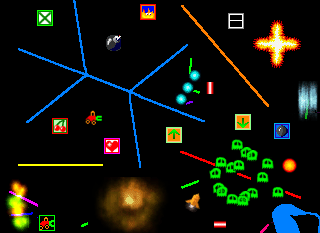 Basics
The worm is always moving forward. You can use the turn left, turn right and fire functions. Before the game starts, you can choose a special ability assigned to the fire key. During the game, you can collect bonuses and use them against your enemy. You can play either on your own or as a part of a team.
Mana
You have full mana pool (80 points) in the beginning of the game. When you press or hold down the fire button your mana will decrease. You can recharge your mana by picking up bonuses.
More topics
For more information, see the following topics:
So, set up your worm and let's go playing! Enjoy!
Used libraries
Music
Chiptunes (various sources)
Licence
This game is freeware. You can copy it and use it freely. You are not allowed to charge for the software.
Contact

Copyright © 2005 Michal Farkaš