How to apply your license
Once you buy Totalamp Classic, you will receive an email containing the license file. You have two options how to apply your license:
Option A - Copy the file
1. Copy the file totalamp.key to your Totalamp user directory, e.g. c:\Users\Your Name\Application Data\Totalamp\totalamp.key
2. Restart Totalamp application.
Option B - Paste the license directly in application
1. Run Totalamp. Copy the license data string from your email (CTRL + C), go to Totalamp Options -> About tab, paste the text to the textbox (CTRL + V) and click Apply button.
2. Restart Totalamp application.
Example of license text:
<LICENSEDATA>BcpuiRvDVlLS2A1Ev0OUI2y6avnGjQ8fadf5alkFFFPNdKhA13pHFi8rN7m21dSOH1rUjeRLDp3nXd3K0cQuJDNxczX2Jzr
NQaupMJ8aaNfnHj3jGqryaop/7sI5JsG/pX7dvQpVKMsPPB8cjT64iAeK1Zg2K8Gurq8Oshxi7oPbq30Va7ubMuNWwR36JgaAdASDDIG9cUoMqWFrt
tMIIiSQj1JQGCB9OKcVecf3WinTVkRzWF1PUj4lh8hlkkOmvo7ZsM95eblUjxIUcPRyQM7t//gwigX17wVHI5J4cS2tRJCFc5YnSni3TUZKQ7mzqVa
ckndODH2jIaqvzyWULvJirKh9ZIm9k654DyT7EcR8SMnlSjEh3QuGYWqZFzWtL+PuWqyPNLwsVQNvtTkcs0+vtnnP8i3X9XxHzzll6dcwkLJfM6o/+
Uefish5MEakK8tlgAFwSTxBYNcscNM3nU8613OMu23BL+qopd/TU5YKZnxv0+ZXf4AmS489LKHBmXMZnPTqRWLynfw813mgS==</LICENSEDATA>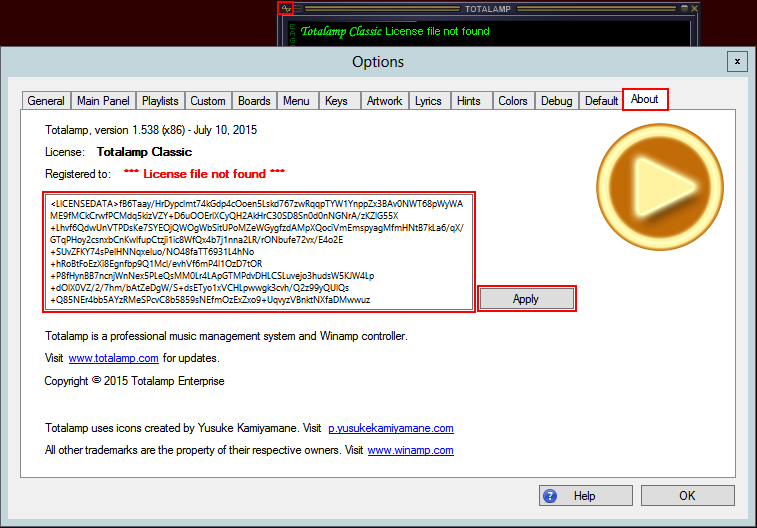 Classic version is required to apply license.
See also How to install Totalamp
Back to contents